TRILENE KNOT

A super all-purpose knot that, when tied correctly, consistently breaks at almost 100 percent of line strength.

(1) Thread the line through the hook eye, then back through another time.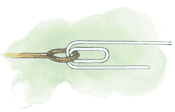 (2) Wrap the tag end of the line around the main line?five times (turns) for line testing up to 12 pounds, four times for lines testing heavier than 12 pounds.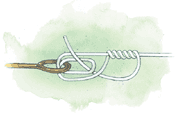 (3) Pass the tag end back through the loops. Then, before cinching the knot, apply a bit of saliva to lubricate the line. Cinch up the knot by applying tension on the main line and the tag end at the same time.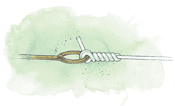 (4) With a clippers, trim the tag end, leaving about a 1/4-inch tag beyond the knot.