SCAFFOLD KNOT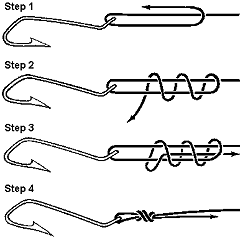 This is a much simpler variant. In all likelihood, this Grant's Uni-Knot. I have used it for more than fifty years and it has never failed me, whether tied in 1kg or 50kg monofilament. It was taught to me by the late Wally Kerr, a top flathead fisherman.
Pass a 15cm loop of line through the eye.
Lock the upper part between thumb and forefinger, making a loop.
Make two more loops over the double part, holding them too, between thumb and forefinger.
Pass the end through the two loops just made, plus the first loop made in step2.
The formed knot can now be drawn into shape, and worked down against the eye of the hook or swivel.