PALOMAR KNOT

Another all-purpose knot that, when tied correctly, retains almost 100 percent of line strength. This is an excellent knot for superline.

(1) Make a loop in the end of the line and pass it through the eye of the hook.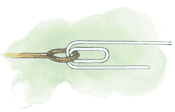 (2) Make an overhand knot above the eye of the hook.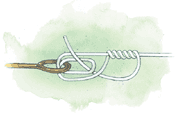 (3) Extend the loop and pass it over the hook.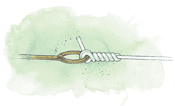 (4) Cinch up the knot by pulling the tag and main line. Trim the tag.